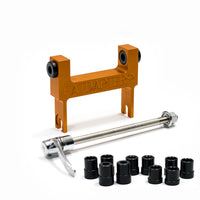 Adapting Fatbikes & E-bikes to standard 100mm fork mount roof racks
The FATDAPTER® modular mounting system allows quick and safe attachment of Fatbike & Ebike forks to a 100mm standard roof rack. No need to swap parts, use tools, or disassemble any fork mount rack to mount your Fatbike or Ebike.
The only 1pc solid body, fully machined, non-welded, non-tubular, non-painted roof rack adapter on the market. Machined from a solid aluminum block and anodized for corrosion protection.
Universal design allows for easy conversion from thru-axle to skewer.
Designed and Machined in Wisconsin. Priced to not break the bank. Lifetime Warranty
FATDAPTER® fatbike & e-bike fork adapter configurations
135mm Skewer
Adapts to the original Fatbike fork design made popular by Surly Pugsley
Thru-Axle Options
Bushing sets available for all standard fatbike thru axle configurations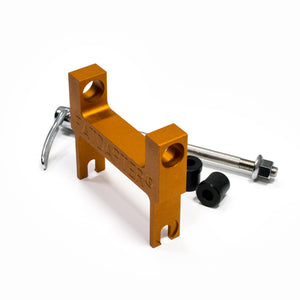 150mm Skewer
One of the few adapters on the market for 150mm skewer fatbike forks
Comments, Questions & Reviews
I knew instantly I was buying a FATDAPTER® when I compared it to the alternate option.

We agree and this is what inspired us to offer it to the general public. When I built my first fatbike on a Friday night and woke up 4hrs later to mount it on my fork mount roof rack I quickly realized it would not fit. The FATDAPTER® was an instant vision and after reasearching the available commercial option I quickly made myself a prototype